The Home Sewage Treatment Plant (HSTP) Explained
A Home Sewage Treatment Plant or HSTP as it's known in the building industry is an integral part of any acreage build that does not have access to mains sewerage. The old "Septic Tank" might ring a bell for some of our readers however, HSTP is a far cry from those old days.
Many of our clients over the years have found their perfect build location that is the whole package, beautiful views, far from neighbours and a wonderful little community nearby. However, due to the nature of acreage land usually being far removed from the city centre, there is often a limit on the infrastructure available such as sewerage and water.
This is why many Acreage builds require HSTP to be included as both a legal requirement and a matter of public health. The HSTP's purpose is to safely treat all wastewater that exits your home. We know what you're thinking but it's ok, it's all in-ground and odourless so no smells will disturb your new home.
At DRHomes we work with the team at Taylex for all our HSTP and underground water tank needs. Taylex, like DRHomes, are also a family-owned business and hold the title of Australia's largest supplier of HSTP systems producing over 2000 tanks every year and they've been doing it since 1969.
If you're wondering where exactly your HSTP will go on your land, below is a diagram outlining the key setback requirements.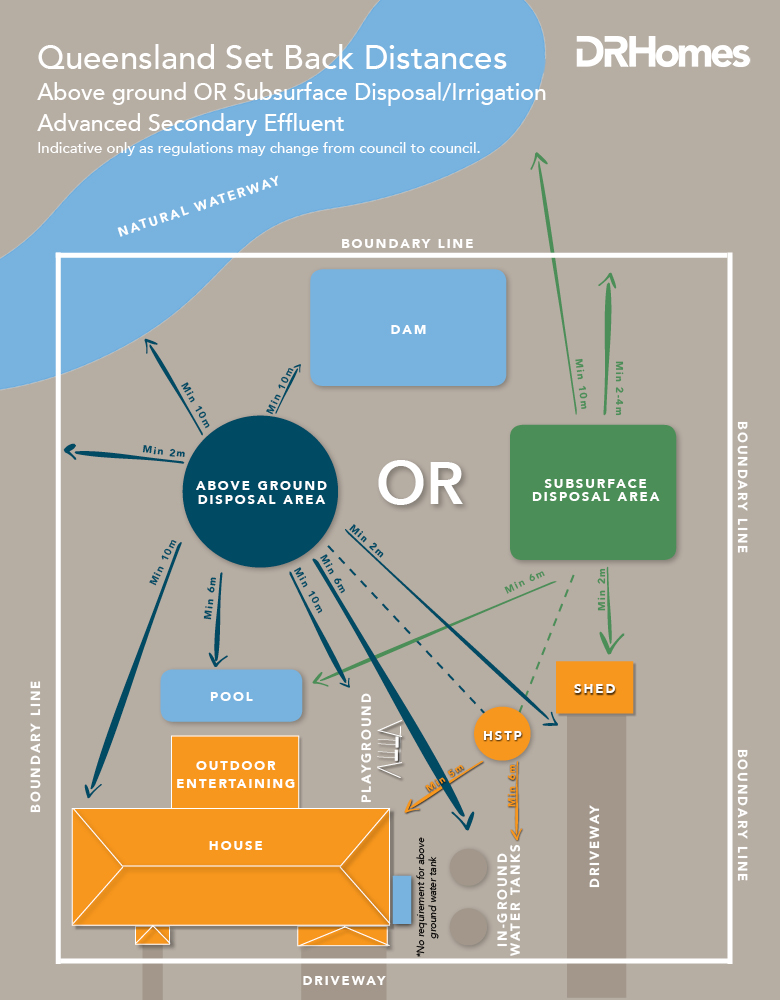 Not sure if you need HSTP on your land?
If in doubt, speak to the team at QLD Urban Utilities, they will be able to tell you what public services are available on your land and your local council will be able to tell you what private infrastructure is available.
If you're looking at building an Acreage Home, make sure you check out our great range of Acreage designs PLUS don't forget we include HSTP and 2 x 31,500 litre in-ground water tanks in our Acreage and SOHO build specifications.