Steel vs timber framing. There are pros and cons for both, but more and more people are building with steel frames.
Why you may ask? Here are the six top reasons why homebuilders choose steel frames over timber.
Termite Proof
This is one of the primary reasons homebuilders choose steel frames over timber frames; Steel wall and roof framing made from steel is completely termite and borer proof. For this reason, the frames don't require additional chemical treatments to protect them from white ants.
Strength of Steel
A home built with timber or steel in accordance with Australian building standards will stand the test of time. However, a steel frame is between 33% and 50% of the weight of an equivalent timber frame, with a far higher strength to weight ratio.
Wall and roof frames made from steel are engineered to maintain its dimensions for the lifespan of the building. Therefore as steel won't shrink, twist or warp, owners are unlikely to have problems such a sticking doors and windows, cracked cornices or wavy rooflines.
TRUECORE® steel, DRHomes' product of choice, is backed by a 50-year warranty and provides structural reliability in all types of environments from cyclone-prone weather to bushland where fire is an ever-present concern.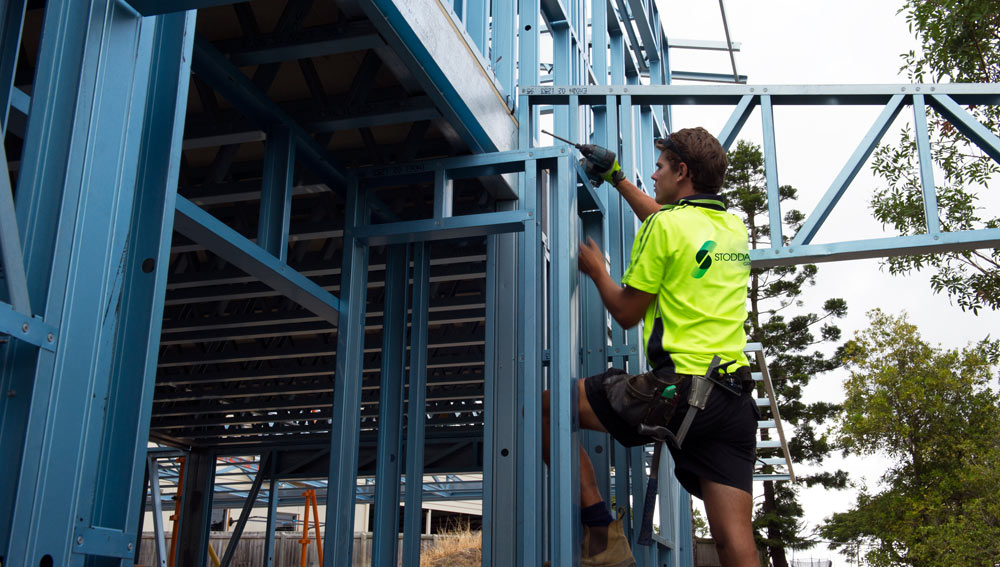 100% Recyclable
Unlike termite treated timber, steel is 100% recyclable. Steel is one of the most recycled materials on the planet, and when a steel frame home is demolished it's components can be reused. About 30% of today's new steel is already been made from recycled steel.
Large Open Spaces
The need for larger open plan areas in homes has grown over the last decade, as has the need for steel for this very purpose. The high strength to weight ratio of steel frames minimises the numbers of columns needed throughout the home giving homeowners more design freedom especially with open-plan living.
Additionally, steel-built homes are often more adaptable than timber, with greater potential for alterations to be made. Rather than knock down, future residents are more likely to alter the design, extending the lifetime of the home.
More Fire Resistant
Steel frames will never contribute or spread a fire. They are non-combustible and will not burn or char. In a bush fire scenario, CSIRO put a steel frame home to the test, where it withstood a raging wall of flame for nearly 2 minutes. After the blaze, not only was the structure still standing but it was completely intact.
A Healthier Home
For an asthma sufferer, steel frames are the way to go. Because steel frames require no additional chemical treatments, it is recognised both here and overseas as a healthy home alternative for people suffering from asthma.
It's never an easy decision choosing what is essentially the backbone to your home. Remember to weigh up your options and choose a frame that is most suited to your needs. Though steel has many great benefits, it is more costly than timber frames. It would be greatly beneficial to a homebuilder in an exposed harsh environment, who wants a barrier against bushfires; however, it may not be suitable for inner city dwellers with a smaller budget.
For more information call 07 3801 1328 to speak to a Home Coach about your house frame options.