THORNLANDS69 Something Place,
Estate Name
MIYA 13 MODERN
Home size: 126.9m2
Land size: 000m2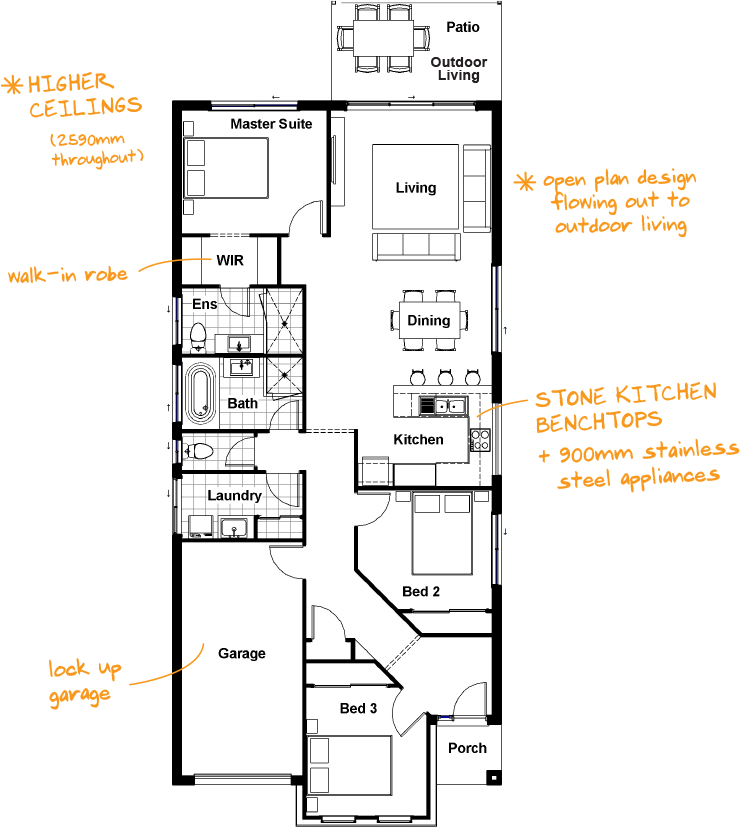 ROOM DIMENSIONS

| | |
| --- | --- |
| Master Suite | 3.6 x 3.1m |
| Bedroom 2 | 3.4 x 3m |
| Bedroom 3 | 3 x 3.2m |
| Living | 4 x 3.8m |
| Dining | 4.6 x 3.1m |
| Outdoor Living | 4.2 x 2.5m |
| Garage | 3 x 5.8m |
HOUSE DIMENSIONS

| | |
| --- | --- |
| House length | 20.5m |
| House width | 8.1m |
FLOOR AREA
Total floor area
(incl. Outdoor Living)
152m2
SEE LARGER PLAN
VIEW BROCHURE
CATEGORY (i.e. KITCHEN)
Inclusion header (i.e. Appliances)
900mm stainless steel electric multifunction oven
900mm stainless steel 5 burner gas cooktop
900mm stainless steel slide out rangehood
Stainless steel dishwasher
Inclusion header (i.e. Appliances)
900mm stainless steel electric multifunction oven
900mm stainless steel 5 burner gas cooktop
Inclusion header (i.e. Appliances)
900mm stainless steel electric multifunction oven
900mm stainless steel 5 burner gas cooktop
CATEGORY (i.e. KITCHEN)
Inclusion header (i.e. Appliances)
900mm stainless steel electric multifunction oven
900mm stainless steel 5 burner gas cooktop
900mm stainless steel slide out rangehood
Stainless steel dishwasher
Inclusion header (i.e. Appliances)
900mm stainless steel electric multifunction oven
900mm stainless steel 5 burner gas cooktop
Inclusion header (i.e. Appliances)
900mm stainless steel electric multifunction oven
900mm stainless steel 5 burner gas cooktop
CATEGORY (i.e. KITCHEN)
Inclusion header (i.e. Appliances)
900mm stainless steel electric multifunction oven
900mm stainless steel 5 burner gas cooktop
900mm stainless steel slide out rangehood
Stainless steel dishwasher
Inclusion header (i.e. Appliances)
900mm stainless steel electric multifunction oven
900mm stainless steel 5 burner gas cooktop
Inclusion header (i.e. Appliances)
900mm stainless steel electric multifunction oven
900mm stainless steel 5 burner gas cooktop
Got some questions? We're here to help.
If you'd like to find out more about the ROSE 15, or have any questions about building your new home with DRHomes,
please complete the enquiry form below and a Home Coach will be in touch with the answers you need.
Or if you'd prefer to chat, call us on 07 3801 1328
* Indicates required field
At DRHomes, we include as standard many of the things that some builders would call upgrades.
FIND OUT MORE
Whether you've built before or it's your first time, it can help to talk through your options. We'd love to chat, so get in touch today.
SEND US AN EMAIL
CALL 3801 1328
Floor plan prepared before construction. Floor plan is illustrative and indicative only. Finished product may differ from floor plan. Whilst every care is taken, no warranty is given or representation is made as to the accuracy or completeness of the information in the floor plan. Prospective buyers should refer to contract documents and should seek and rely on their own advice. All images and renders are indicative only, and the pricing on this website does not include as standard, all external landscaping including clothesline, fencing, driveway and letterbox. As this is impacted by the size of the block, these costs are excluded. Furniture shown is not included. For detailed home pricing please speak to one of our Home Coaches today. 'Nominated block widths are indicative only. Setbacks vary on different estates, please make your own enquiries regarding applicable building setbacks.